How Much Is Adam Humphries Worth?
December 3rd, 2018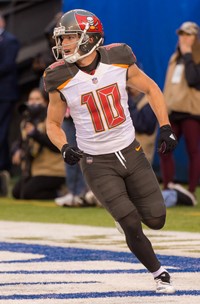 Rudy!
Beloved Bucs wide receiver Adam Humphries is having one hell of a season — in a contract year.
"Hump," as he's called in the locker room, now has 53 catches on the season for 606 yards and five touchdowns. Barring an injury, he'll set his career highs in every major receiving category, and pass 210 receptions in his four-year Bucs tenure.
The dude is a stunning success story for a tryout player.
But how much will the Bucs pay him?
Humphries is a slot receiver and the value of that position in the pass-crazy NFL is changing. The Washington Post wrote an interesting feature on that last year.
Humphries might be worth up to $5 million annually as a quality slot guy, but suppose a team believes he can be their No. 2 receiver? That could be worth 50 percent more. All it takes is one team to put that kind of value on him.
Joe is sure DeSean Jackson will have new team next season, and that would/should free the Bucs to give Humphries a market-value contract. They just can't let Humphries walk if Jameis Winston stays. The connection there is just too strong.
No, Joe doesn't believe Humphries can play effectively outside and be a true No. 2 receiver. He shouldn't be paid like one. But he's the perfect No. 3 for Jameis, and the Bucs might be wise to lock him up ASAP before Humphries starts looking at what the market could bear.