Monken Lands On Head Coach Candidate List Produced By NFL Advisory Panel
December 26th, 2018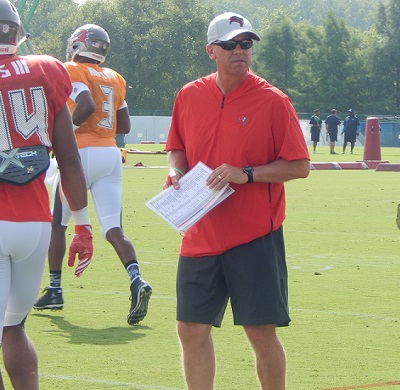 Now isn't this interesting.
Bruce Arians, Bill Cowher, Dick Daniels, James "Shack" Harris, Charley Casserly, John Madden, and Jimmy Raye III collectively like what they see from Bucs offensive coordinator Todd Monken.
Those big names (not Monken) comprise the NFL's Career Development Advisory Panel for 2019. The group gathers to evaluation coaching candidates and will submit their findings to teams with openings, per a new story by ProFootballTalk.com guru and creator Mike Florio.
You can read the whole thing here.
The panel put head coach candidates into two tiers, per Florio, and Monken made the second group.
Tier 1 includes a guy Joe has talked about, Mike Munchak, and will write about tomorrow. The former Titans head coach and Hall of Famer is an interesting possibility. Chiefs offensive coordinator Eric Bieniemy is another name Joe has chatted about on podcasts that made the Tier 1 cut, as did Father Dungy friend Jim Caldwell, the former Lions and Colts head coach.
Hmmm, where's 2008 NFL head coach of the year Mike Smith?
Raheem Morris still can't get a sniff from anyone after his fine work since leaving the Bucs.
Joe sure hopes Team Glazer has ordered 37 copies of the findings on each head coach candidate.