Lavonte David Has A Message For Fans
December 17th, 2018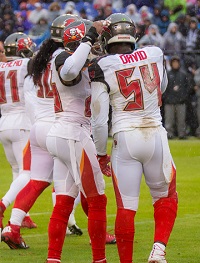 After a banged up Lavonte David talked to some reporters, showered, visited the training room, dressed and was the last Buccaneer standing in the locker room yesterday, Joe caught up with David for a private chat.
David has been a monster the past three games after returning from a two-week knee injury. In that time he's led Tampa Bay in tackles and racked up three sacks, including two yesterday against the Ravens.
Among other things, Joe asked David what fans should know about this struggling 2018 Buccaneers team.
The defensive captain says he sees a team more special than any he's seen in his seven years as a Buccaneer.
"It's the most close team since I've been here. The most close team, the most caring team, most hard-working team I've been a part of since I've been here," David said. "These guys out here, they want to win. I know they want to win. I can tell by the way they prepare, by the way they work in practice. I can tell they want to get the job done. Fans should appreciate everybody out there even though things are not going too well. Appreciate the hard work; these guys are going out there fighting and busting trying to bring this city wins and the fans deserve that. We're all disappointed. We all sad the way stuff is going right now. But you won't never find nobody in this locker room not going out there and playing their hardest not only for their brothers but for our city."
Joe followed up with David to confirm whether this team really worked harder in practice than last year, as well as with Commander Greg Schiano and Lovie Smith.
"Definitely," David said.
Joe doesn't think David is throwing a pile of BS. And, if true, this was yet another commentary on how badly this coaching staff is performing on game days.
---
The game-preview edition of TAMPA TWO is always a must-watch, with Derrick Brooks and Ira Kaufman looking at match-ups and more. TAMPA TWO is presented by Caldeco Air Conditioning & Heating, with The Identity Tampa Bay and JoeBucsFan.com producing.