Jameis Ranks 23rd In Completion Percentage
December 10th, 2018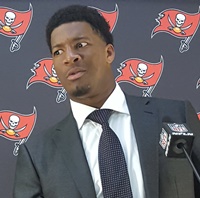 America's Quarterback, Jameis Winston, has a half-season body of work this year and he's not riding a high like many QBs are in the new NFL.
As Joe noted yesterday, Jameis completed less than 50 percent of his passes against the Saints, the first game he's hit that low since the big Cowboys-Bucs clash on Sunday Night Football in December 2016.
Overall this season, Jameis is completing 64.8 percent of his passes. That's a career-best number, but at the same time it's a significant dropoff when compared to his NFL peers.
That completion percentage ranks Jameis 23rd among QBs with 80 or more attempts this season. In 2017, despite a bad shoulder, Jameis completed 63.8 percent of his passes, which was good enough to rank 14th-best in the NFL among QBs with 80 or more throws..
Ominously up next for Jameis is the Ravens defense, which leads the NFL this season in holding opposing quarterbacks to a 58.8 percent completion rate.
It looks like Jameis' completion percentage this season will become another microscope-worthy view of Dirk Koetter's offense and its evolution in the modern NFL, as well as the skills of Jameis.