Humphries: Bucs Have "Rhythm" Issues
December 18th, 2018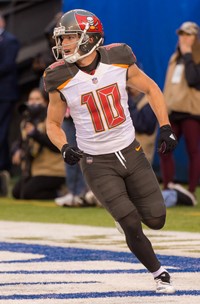 The Bucs offense has gone from slow starts and big finishes to crisp starts and horrible second halves.
It's the sign of a poorly coached team and one with mental deficiencies.
Adam Humphries was asked about this issue last night on the Buccaneers Radio Network.
The fourth-year wide receiver said he feels the difference.
"I just feel like we're not in the same rhythm as we are when we start the game," Humphries said. "We've put a lot of emphasis on starting fast because early in the year we would come out, you know, first quarter and kind of be slow and not really get the start we wanted and get behind, you know, the score early. We've put emphasis on that and we tried to come out and start faster. But we've got to continue that momentum and keep playing good football all the way through the entire game."
It's been quite a shift for the offense, which has scored three total points in the second halves of the last two games.
Joe hopes the next head coach can fix this. It's especially bizarre since Jameis Winston, America's Quarterback, was a great second-half quarterback in college.