"Those Guys Are All On One-Year Deals Anyway"
December 14th, 2018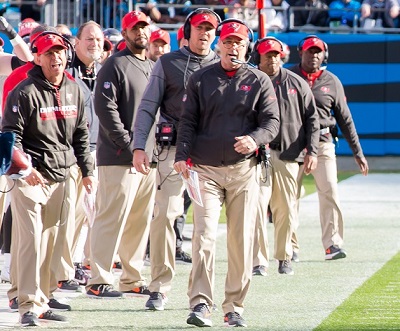 CBS senior NFL insider Prickly Pete Prisco was talking "complete housecleaning" of the Bucs coaching staff yesterday.
It built upon a theme Prisco was floating previously; it's already over for the Dirk Koetter regime.
Speaking on WDAE-AM 620, Prisco noted that while he expects the Bucs to play "fiesty football" in Baltimore on Sunday, and that Koetter teams stay fiesty, it won't matter for the Tampa lifespan of the head coach.
Prisco noted that "those guys are all on one-year deals anyway." And Joe presumes Prisco was talking about Koetter's assistant coaches.
Before last season, various reports had Bucs coaches having additional one-year options exercised by Team Glazer on their two-year contracts, a typical deal for NFL assistants.
Of course, Mike Smith already was launched, and it's unclear how many millions the Bucs had to eat there.
Prisco's point about the contracts is probably a non-factor. But money is money, and Team Glazer not owing another nickel to Koetter's staff could provide a shred of extra incentive for a "housecleaning," to use Prisco's term.
---
Derrick Brooks is talking all things Bucs on this week's Q&A episode of TAMPA TWO with JoeBucsFan.com columnist Ira Kaufman, presented by Caldeco Air Conditioning & Heating. It's another great production by The Identity Tampa Bay. (Look for tomorrow's game preview episode!)