Gerald McCoy Says His Hunger Is Strong As Ever
December 30th, 2018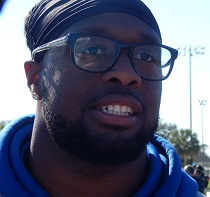 Joe has a habit of asking Gerald McCoy questions that seem to annoy McCoy.
It happened again today.
After the loss to the Falcons, McCoy was very somber in the locker room and was holding court with reporters.
Joe asked McCoy what seemed like a simple and relevant question for a veteran of nine NFL seasons.
"Gerald, do you feel your hunger for the game is stronger than ever, or where it's always been?" Joe asked.
McCoy asked Joe to repeat the question. Joe did and asked McCoy where he is when it comes to his passion for football.
"It hasn't changed. It won't change until I say I retire," McCoy said. "I'm not doing that, so."
That was the end of the media session.
McCoy earlier was asked by another reporter if he thought/prepared before this game like it could be his last in Tampa. McCoy said no, it was business as usual.
The Bucs have a $13 million decision on McCoy. That's his 2019 salary, and he has no more guaranteed money in his contract.
About a month ago, McCoy told Joe this month that he plans to keep his offseason training regimen, including training with Drew Brees on the west coast.
Joe is all in favor of McCoy staying with the Bucs next season. But if the next head coach/regime is thinking rebuild, then Joe would be completely in favor of trading McCoy for draft pick(s).