Duffner Wept When Kwon Was Injured
December 12th, 2018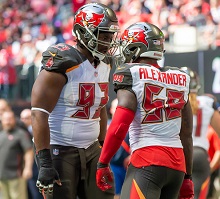 Lavonte David shared eye-opening, dumbfounding information about the Tampa Bay defense on the Buccaneers Radio Network this week, and he offered more insight, too.
David was chatting about injured Kwon Alexander and how he's in touch with him daily and how Kwon has remained a tight member of the linebackers corps as he recovers from his torn ACL.
In talking about the loss of Kwon during the Cleveland game in October, David twice noted how promoted defensive coordinator Mark Duffner reacted when Kwon went down midway through that game.
It was Duffner's first in his new role after the Bucs rightfully launched Mike Smith.
"You could see it when [Kwon] went down, Duff, showing his emotional side came out crying," David said of Duffner. "He probably won't be happy with me telling you this, crying. He cares. He's one of those guys that really cares."
Very cool nugget. Joe's enjoyed learning more about Duffner, who saved the defense but is likely to be blown out of town in a few weeks with his head coach.
Joe cried recently, too, when Dirk Koetter went with Ryan Fitzpatrick as his starter against the Giants after he racked up just three points against the Redskins.