Donovan Smith Gets Non-Traditional Love From Dirk Koetter
December 6th, 2018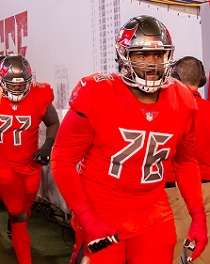 For 60 consecutive games, Donovan Smith has lined up as the Buccaneers' starting left tackle, ever since he was selected in the second round of the 2015 NFL Draft.
And in that time, many NFL executives have wished Smith was on their team.
That's always been the running take on Smith at One Buc Palace: he's better than most left tackles. Top-10, top-14, wherever you want to rank him in the NFL, Smith is a durable, effective, good player who is inconsistent.
It's a weird endorsement because it sort of acknowledges that Smith could be better than he plays.
Joe actually can't recall anyone connected to the Bucs saying Smith is consistent in his performance. And Dirk Koetter was back at that today noting a fair knock on Smith is that he's inconsistent but that label applies to most NFL players.
Koetter was asked about Smith and how he's playing in a contract year. The head coach said he hears Smith's loud critics but sort of challenged anyone to name a list of better left tackles.
That list is "extremely small," Koetter said.
Koetter is correct. However, Smith will want to be paid after this season like an elite left tackle. And that's where the Bucs' decision lies. Will they want to pay an inconsistent player a monster contract?
It's a good question, and it might be a tough one.
The good news is the Bucs can slap the franchise tag on Smith for 2019. It's a reasonable price ($14.07 million in 2018) because the tag covers the position of offensive lineman rather than left tackle, which is the highest paid slot among O-linemen. On the open market, 25-year-old Smith could fetch $16 or $17 million per season.
Joe suspects that whoever is coaching the Bucs will want to keep Smith for at least one more year.
No matter who is running this team in 2019, there's no way the Bucs will be drafting a left tackle in Round 1, and chances are slim they'll invest in a free agent LT not named Smith.
Joe would love to see how Smith responds to a new offensive line coach.
---
Derrick Brooks and Kaylee Glyder (filling in for Ira Kaufman) answer your questions after the Buccaneers earned their second win in a row. Submit your questions to @TheIdentityTB on Twitter to be featured in the upcoming shows presented by Caldeco Air Conditioning and Heating.
This is a verrrry interesting episode. (Look for the follow-up/game-preview episode here on Friday.)