Dirk Koetter Offers A Farewell To Fans
December 28th, 2018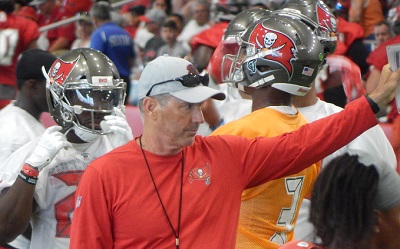 The final seconds of Dirk Koetter's weekly Buccaneers Radio Network show were ticking off tonight and the head coach said goodbye to listeners.
Koetter didn't offer inspiring words for the offseason as the show's exit kicked in. He didn't rally fans for the final home game.
Instead, the head coach expressed thanks to all fans who shot him questions through the season-long show via various online mediums and phone calls. He thanked host Casey Phillips and said goodbye like a man who won't be returning for a fourth season — on his show or in the head coach office at One Buc Palace.
"Whether I'm here or not, I'm always going to be a Buc fan," Koetter said.
Earlier in the program, Koetter laughed on two different occasions when fans brought up the subject of his job security.
He also offered a bizarre answer to a fan who asked what his favorite moment of the season was. "It's still to come on Sunday at about 4 o'clock," Koetter said.
Throughout the broadcast, Koetter acted like a man who knows he's about to get fired.  "I'm sure next week we're going to find out what's going to happen moving forward," he said about his job.  … "I'd love to get another year. … I also understand the business side of it."

"We hope we'll have that opportunity. … That's something that will be decided by ownership."
For Joe, the impending end of the Koetter era was obvious after the debacle on the road against the Giants, a debacle that included starting Ryan Fitzpatrick after the Bucs scored three points at home the previous Sunday against the Redskins.
Koetter will have earned his firing. The man is 11-23 since the Bucs' five-game winning streak of 2016.