Dirk Koetter, Mike Evans Talk Drops
December 16th, 2018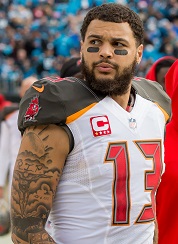 Drops plagued the Buccaneers today early and late.
Joe went fishing for reasons with Dirk Koetter after the game.
Struggling second-year receiver Chris Godwin had a drop on the opening possession of the game. The next play was a sack of Jameis Winston, the only one he took all day.
On the next Bucs possession, Mike Evans lost a ball in the air and then dropped the next one thrown his way. That led to a punt, and four plays later Bucs linebacker Riley Bullough dropped a sure interception in his belly.
Joe asked Koetter if the drops had anything to do with relentless rain or wet field, or just player error.
"I'm sure the weather had something to do with it," Koetter said. "But, you know, we don't usually have drops on balls. Like I said, Jameis was right on the money there. We had three drops, you know three on offense and a dropped interception right off the bat. You gotta be able to catch it."
Evans talked about how the cold (41 degrees at kickoff) made the ball feel "like a rock" and it took him time to adjust.
In a one-score game, these are the little things (among the big things) that lose games.
Koetter was asked a lot the last two weeks about practicing with wet balls to prepare for games. Perhaps next time the Bucs travel north in December, they should bring wet and refrigerated balls out to the practice fields of One Buc Palace.