Are The Bucs Pursuing A Trade For John Harbaugh?
December 17th, 2018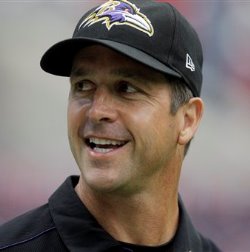 Joe saw Buccaneers co-chairmen Bryan and Joel Glazer dressed in business attire yesterday exiting the Tampa Bay locker room shortly after the loss to Baltimore with serious-business looks on their faces.
So what were they doing during the game or before it?
Mike Florio, the ultimate NFL insider guru at ProFootballTalk.com, wrote a piece prior to the Ravens-Bucs kickoff about how teams are still permitted to trade for NFL head coaches and Ravens chief John Harbaugh might be a target of teams right now.
Rules changed after Team Glazer traded for Chucky after the 2001 season, but a deal for a head coach can still be swung.
In a 2014 story, Florio explained that a swap for a head coach is not like a traditional player deal, "Typically the coach's contract doesn't get shipped to a new team.  Instead, the two teams agree on compensation (draft picks and/or cash) that would be exchanged if the new team works out a contract with the coach.  If that happens, the current team releases the coach in exchange for the compensation."
For months there has been chatter that the Ravens are looking to replace Harbaugh. Heck, that talk goes back a few years.
In 11 seasons with the Ravens, including this year, Harbaugh has just one losing campaign on his resume. He's also got mind-blowing 15-10 record in playoff games. Put on your math hats and think long and hard about how difficult it is to have better than a .500 record in the playoffs.
Joe would welcome Harbaugh to Tampa with open arms, especially if all it costs Team Glazer is a fat check.