Three Bucs Out; Multiple Bucs Return
December 7th, 2018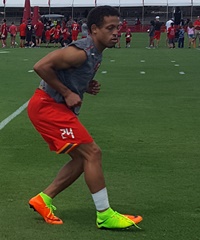 Fresh faces — and legs — will be among the active Buccaneers on Sunday against the Saints.
But Joe's not sure what's good or bad news on the injury report.
On the surface, it's great to have rookie cornerback M.J. Stewart return from his foot injury, but the defense was playing better without him. He's looked slow all season. Stewart was "full participation" in practice all week.
Cornerback Brent Grimes also practiced fully all week, so it sure seems like he'll be back on the field — and as a starter.
Demar Dotson, who missed last Sunday's game with a hamstring injury (and another one Joe can't remember) officially is listed as questionable for Sunday but was "full participation" today. So that means he's likely to play. Last Friday on his radio show, Dirk Koetter said Dotson may be best pass-blocking right tackle in the league.
Cornerback Carlson Davis is doubtful with a knee injury, and Justin Evans (toe), Isaiah Johnson (concussion) and DeSean Jackson (thumb) have all been ruled out.
Evans returned from a toe injury last week and quickly left the game after getting burned. The Bucs are probably better off without him if he's at less than full speed.
No Evans means Bucs-Panthers hero Andrew Adams makes his first Bucs start. He started 17 games at safety for the Giants through the 2016 and 2017 season, so this won't be new territory for him.