The Great Jameis Debate
December 26th, 2018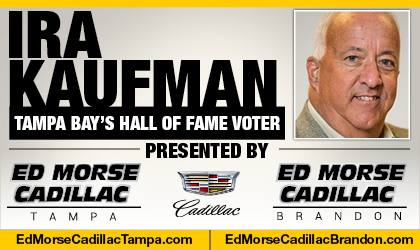 BY IRA KAUFMAN
More than a quarter-century has passed in Buccaneer lore since the franchise dealt with a player as polarizing as Jameis Winston.
In his day, Doug Williams generated heated debate among Buc supporters regarding his worth under center. Skeptics pointed to his career completion rate — well south of 50 percent — as evidence that the Bucs could do better.
There was also the matter of his skin color. At that time, black quarterbacks had not been given many opportunities to prove themselves as winners. 
Others argued that Williams joined a comical third-year franchise in 1978 and promptly led Tampa Bay to three postseason berths in five seasons.
Ultimately, the Bucs didn't want to pay Williams what he felt he was worth, so he left town and put a curse on the franchise he left behind.
Williams bounced around and ultimately went on to glory with the 1987 Redskins, capped by a majestic Super Bowl victory that opened the locker room door for other black quarterbacks … like Jameis Winston.
It's Complicated
What former Buc owner Hugh Culverhouse failed to realize was how much Williams meant to his teammates on both sides of the ball. If the game was close, they believed, Williams was going to find a path to victory.
Williams wasn't about statistics, he was about winning.
Now we come to the strange case of Mr. Winston, whose career passing statistics look impressive on the surface as he heads into Sunday's season finale against Atlanta.
Yet unlike Williams, Winston has yet to show he's a winner through his first four pro seasons.
Winston arrived in Tampa under a cloud of controversy, beset by off-field issues that created doubt among some Buc fans well before he threw his first NFL pass.
The Uber incident and subsequent suspension confirmed those concerns for the Winston cynics who never wanted him in the first place.  Sunday's loss in Dallas dropped Winston to 3-5 on the season and 21-32 for his career. Those numbers suggest the Bucs would be wise to move on from the No. 1 overall pick in the 2015 draft.
But of course, it's not that simple.
For the past three seasons, the Bucs haven't run the ball effectively.
For the past two seasons, the defense stunk.
Crunch Time
From the bars in Ybor City to the trendy coffee shops in downtown St. Petersburg, the great debate on Winston's future is in full swing His current head coach believes Winston is showing progress.
"I thought for the most part he made good decisions, so I think he's improved there, definitely improved his accuracy, has improved protecting the football," said Dirk Koetter. "I think Jameis has improved across the board. Our team has to improve on winning close games."
Isn't that what it's all about?
When the game is on the line, Winston hasn't made enough plays. Sounds simplistic, but that's the job description for franchise quarterbacks. Find a way. Quarterbacks chosen atop the draft are supposed to find a way.
If they don't, they find their way somewhere else.
Winston's future in Tampa appears uncertain, but the tea leaves suggest he'll be back. Ownership has final say and the Glazers stuck with Winston through his suspension.
If the Glazers had turned on Winston, he wouldn't have started the last five games, risking injury and guaranteed money for 2019. He's likely to have one final shot next year to prove himself a winner.
One last chance to go from polarizing to mesmerizing.