Buccaneer-Saints, Open Thread
December 9th, 2018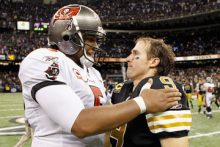 Comment all through this critical game with Bucs fans and a small handful of haters.
Not hateful, personal attacks. The Bucs still have a tiny shot at the playoffs, so Joe expects passions to run hot.
Have fun, stay safe, and prepare for Joe's award-winning postgame coverage with Ira Kaufman, Tampa Bay's only Hall of Fame voter.
Go Bucs!