"It Almost Seems Like He's Becoming Comfortable With Losing"
December 24th, 2018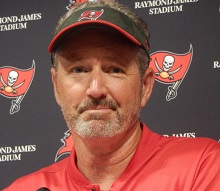 Dirk Koetter appears to be doing a wonderful job dealing with a steady flow of Buccaneers losing. For Koetter, that's an 11-23 run since his five-game winning streak in 2016.
If you watch/listen to Koetter in his many news conferences, Koetter appears rather resigned to a steady diet of L's with a side of sloppiness. It almost makes Joe think Koetter already was told he won't return next season.
It's not just Joe viewing a head coach who appears awfully calm and content to make few if any changes to his starting lineup.
"It almost seems like he's becoming comfortable with the losing," John Gilmore said of Koetter yesterday on the Buccaneers Radio Network.
Gilmore, the ex-Bucs tight end, collects a check from Team Glazer for his analysis. And he's been hammering away at various players in recent weeks. It was intriguing to hear him talk about seeing a defeated head coach.
Does that rub off on players?
Joe doesn't know. But it should all be moot in one week.