Adarius Taylor Expected To Play
December 21st, 2018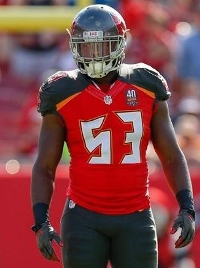 Last week Bucs starting linebacker Adarius Taylor didn't make the trip to Baltimore because his wife was expecting the birth of their son.
The boy had other plans.
So now Taylor has a newborn son. And that means unless something weird or terribly unfortunate happens in the next 48 hours or so, Taylor will suit up when the Bucs face the Cowboys in Jerry's World.
Taylor's son's name is way cool in Joe's mind.
"Apollo."