"8-8 Talent"
December 26th, 2018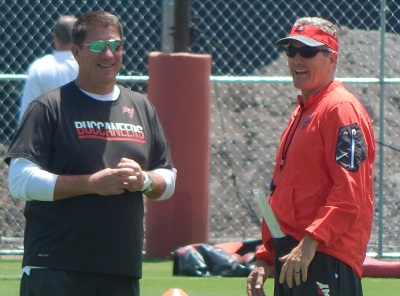 Perhaps the busiest man in football media circles is former NFL offensive lineman Ross Tucker. The Princeton grad is a host on SiriusXM NFL Radio and works on various game broadcasts and podcasts.
He might be best known to Bucs fans for blasting the drafting of Donovan Smith, a guy he watched as part of the Penn State broadcast team.
To refresh your memories, Tucker couldn't believe how Smith performed in a contract year, aka his final season at Penn State.
"I thought he took a big step back this year. I thought he clearly was overweight. He played lazily. He really did," Tucker said. "Even in the Pinstripe Bowl, getting beat inside on an inside move and like clapping his hands. He wasn't even close to redirecting his weight back inside. I mean, if he thought at any time [turning pro] that this was a possibility. I'm like amazed he didn't put forth a better performance to help his draft stock."
Hmm, fast forward to 2018, and Joe also is amazed Smith isn't putting out better effort in a contract year, as he approaches free agency in a matter of days.
Anyway, Tucker made his weekly visit to WDAE-AM 620 this week and said the Bucs have clearly underachieved based on their roster.
"They probably have, you know, 8-8 talent right now but could be better than that with better coaching and winning some of these close games they weren't able to get done," Tucker said.
In addition to pointing to talent at skill positions, Tucker acknowledged that it's undeniable that Jason Pierre-Paul, Gerald McCoy and Carl Nassib represent serious talent on the defensive line. Tucker said he's particularly fond of the intensity Nassib has been bringing week to week.
Do the Bucs really have 8-8 talent? Joe thinks that's fair, and that's also not a very good endorsement of a fifth-year general manager.