Todd Monken Will Call Plays On Sunday
November 16th, 2018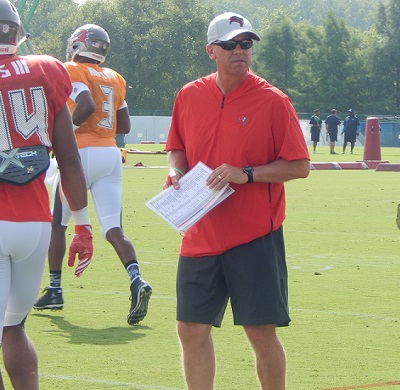 And back we go to Todd Monken. Dirk Koetter officially has executed the handoff.
This has been one strange Buccaneers season. Dirk Koetter turned over playcalling duties to start this season after saying he had no plans to do that ever.
Then Koetter took back the deck of cards last Sunday against the Redskins. The Bucs scored three points, but former Bucs tight end Anthony Becht and Monken said Koetter did a heck of a job. Throw away the point total, they said.
But now it's back to Monken, Koetter said tonight on the Buccaneers Radio Network.
Joe can only assume Koetter thinks Monken gives the Bucs the best chance to win.
These Bucs are never boring. That's at least something.
---
Derrick Brooks Talks Beating Eli, Red Zone Winning On Both Sides Of The Ball, And More
More Bucs juice delivered by everyone's favorite Hall of Famer — and Hall of Fame voter. Presented by Caldeco Air Conditioning & Heating, it's a new episode of TAMPA TWO with Derrick Brooks and Ira Kaufman produced by The Identity Tampa Bay and JoeBucsFan.com
Enjoy!