The Circus That Is The Bucs
November 19th, 2018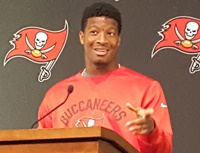 There are a lot of unknowns as we look at the just finished loss at the Giants.
The Bucs currently stand at 3-7. Though this is not a popular opinion for those with jobs on the line or in the locker room, the smart thing would be for the Bucs to tank the season in an effort to land Nick Bosa.
Barring the Bucs doing something crazy in the final six games, say, running the table to finish the season at 9-7, Joe suspects there will be a lot of changes next year, both on the field and in the coaching booth. And maybe more.
You can almost smell the bleach from the January housecleaning.
Rick Stroud of the Tampa Bay Times wrote prior to kickoff of yesterday's game that the Bucs could bring back Bit-O-Honey-snacking, Ozark-watching coach Dirk Koetter. The Bucs also could bring back America's Quarterback, Pro Bowler Jameis Winston. And Bucs fans could be looking at both a new coach and a new quarterback next season.
But, Stroud types, Bucs fans won't see Koetter and Jameis return as a coach-quarterback partnership. One of the two, he believes, is gone in 2019, perhaps both.
You can't fault Koetter for doing what he thinks gives the Bucs the best chance to win today. But you have to wonder what is going through the heads of the Glazer family, which I understand truly wants to see Winston remain with the Bucs. That explains why it picked up his fifth-year club option worth $20.9 million for next season.

If the Bucs had given up on Winston and merely wanted to safeguard that salary, which is guaranteed only against injury, Ryan Griffin would be the No. 2 quarterback today and Winston would be inactive.
Stroud also writes it's not about the money whether Jameis returns or not. Joe agrees and has been writing that for weeks. As we stand today, Jameis' 2019 salary puts him at No. 18 in quarterback salaries, per Spotrac.com. That's not factoring in quarterbacks who will have their deals reworked so Jameis' salary could easily slip into the bottom third of quarterbacks next season.
Joe just wonders what a new-age coach, you know, someone from the Andy Reid tree would do with Jameis. As he showed yesterday, the dude has talent. Why on earth would people want to throw him to the side for who, Mike Glennon? Tyrod Taylor, journeyman backup Ryan Fitzpatrick?
Good grief!