Tease Against A Lightweight, Or Something More?
November 26th, 2018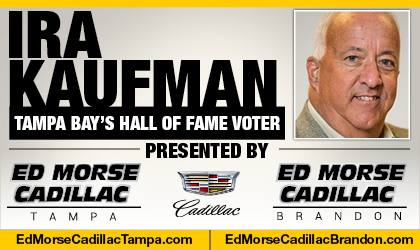 BY IRA KAUFMAN
In a crazy way, Sunday's decisive victory against the 49ers was incredibly frustrating for Buc fans.
It showcased what might have been in 2018 if this team had shown more discipline about keeping the football and retrieving the football.
For one glorious afternoon, the kicks were straight and the numbers were crooked as Tampa Bay ended a 4-game skid in dominant fashion.
"This is a good, talented team," said Demar Dotson, who missed significant time Sunday with a hamstring issue. "Taking nothing away from the 49ers, but that was a team we should beat. They're down a lot of guys, playing a backup QB, so it's a game no doubt we should have won."
The schedule hardens as the Panthers and Saints come marching into Raymond James Stadium in the next two weeks, but make no mistake — the Bucs would have beaten a lot of clubs Sunday with the way they played.
"It was good to come out here and get a taste of winning," Dotson said. "We haven't felt that for awhile. Hopefully, that sparks something, gives us our confidence back. We're a team that should have won a lot more games than our record shows, but at the end of the day we are what we are."
According to the NFL standings, the Bucs are a last-place team in the NFC South at 4-7. And despite outgaining opponents by an average of 63 yards per game, Tampa Bay has been outscored by 44 points.
That's messed up.
The Bucs still lead the NFL in total offense and rank No. 2 to the Colts in third-down conversion rate at 50 percent. Mike Evans has already topped 1,000 yards and DeSean Jackson is on pace for almost 1,100.
Bad Blood
The story of this Buc season will be written in red ink, representing all the blood spilled with self-inflicted wounds. Lousy defense and too many giveaways have trumped all those yards through 11 games.
It turns out Todd Monken was quite the prophet back in training camp when he said the Bucs would thrive if they can generate explosive plays while maintaining ball security.
That's a neat trick, and one Tampa Bay hasn't mastered for most of the season. Explosive plays? Check. Ball security? Checkmate.
Before looking at the film, 49ers coach Kyle Shanahan admitted his quarterback didn't play particularly well. Nick Mullens looked like a backup, but the Bucs contributed to his struggles with a fierce pass rush led by Jason Pierre-Paul and high-motor left end Carl Nassib.
Fork In The Road
On the other sideline, Jameis Winston turned in a clean sheet that should generate some swagger before the reeling Panthers hit town.
"I think Jameis did great," Dotson said. "He moved around the pocket well, he was precise with the ball and he knew what he was doing. We had no doubts about Jameis. The big thing today was he knew where he was going with the ball. He made plays with his feet and that was the old Jameis we know. It was good to see him so settled."
This organization doesn't want to start all over with another quarterback … that's unsettling.
The Bucs will do it if they have to, but Winston just took a major step in securing his place on the 2019 roster.
Was Sunday's game a harbinger of good things to come, or just a tease against a league lightweight? The next two weeks will provide the answers.
Now in his 40th year covering the NFL, Ira Kaufman is the most revered sports personality and writer in the Tampa Bay area. He scored a full-time seat at JoeBucsFan.com world headquarters in July of 2016, and Tampa Bay's only Pro Football Hall of Fame voter busts out columns here every Monday, Wednesday and Friday. His  award-winning podcasts fire Tuesdays and Thursdays. You can also hear Ira on SiriusXM Mad Dog Radio Wednesdays at 5 p.m. Also a TV star, Ira is part of the FOX-13 Tailgate Sunday NFL show at 10:30 a.m. "The Sage" enjoys beet salads, Riesling, tennis, Bette Midler, Chiefs victories and needling Joe. …Don't forget to WATCH IRA AND DERRICK BROOKS on the new TAMPA TWO show from The Identity Tampa Bay and JoeBucsFan.