Pivotal Stretch For Peyton Barber
November 10th, 2018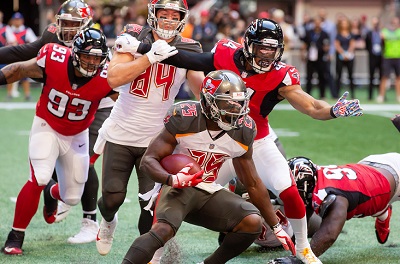 How bout some fun facts on Peyton Barber, the Bucs' 24-year-old bellcow running back.
He's one of 19 running backs with more than 100 carries this season across the NFL. Only 10 of those guys have more runs of 20-plus yards than Barber.
A lot of Bucs fans would tell you they yearn for Sony Michel, Derrick Henry and Dion Lewis, or Tevin Coleman and Alvin Kamara, but none of them have three runs of 20-plus yards this season, which is Barber's total.
Dirk Koetter will tell you Barber needs more carries to thrive. He may or may not be right.
Barber ranks 18th in the NFL with an average of 13 carries per game, within one carry of Saquon Barkley (13.9), Kamara (13.9) and Christian McCaffrey (13.7). Adrian Peterson is at 17 per game, and that ranks fifth in the NFL. Only Todd Gurley gets 20 carries per game.
At 3.6 yards per carry, Barber is near the basement of the workhorse ball carriers.
Of the 19 RBs averaging 13 or more carries per game, only Kenneth Dixon, Jordan Howard and David Johnson have a lower yards per carry average. Barber also ranks dead last in touchdowns (one) among those 19 RBs.
Could you argue Barber was better last season? Yes you could.
The sample size is now effectively the same — 108 carries last season and 104 this year, and Barber had about 50 more yards, two more touchdowns, and more receptions in 2017. Also, Barber has benefited this year from a starting offensive line that has stayed healthy — and he should be benefiting from defenses respecting the Bucs' aerial attack. But Barber's numbers are down through half a season.
Joe is very interested to see how Barber performs through the final eight games.
Will he stay healthy? Will his numbers improve as his experience grows? How will he fare in the cold weather games? So far he has yet to fumble in 2018, will that continue?
The Bucs have something pretty good in Barber, who is a restricted free agent after this season. But if he can't prove to be more than that in November and December, then it's very likely he'll be part of the inevitable offseason housecleaning.