The Losing Koetter Pattern Is Clear
November 4th, 2018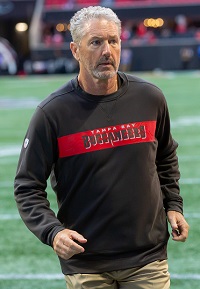 A quick look at the first halves of Dirk Koetter's three seasons as head coach: 3-5, 2-6, 3-5.
Joe is not a big believer in coincidences.
The pattern is clear: Koetter's teams start poorly when it comes to pulling it all together to play consistently.
Why?
Joe has no freakin' clue, and it really doesn't matter. All Joe knows is there is no reason to believe this pattern will ever stop.
Following the same line of logic, Joe can comfortably say Koetter knows how to get his teams ready for opening day. They thumped Super Bowl-bound Atlanta on the road in 2016 (Jameis Winston was Offensive Player of the Week). Last year, they jumped all over the Bears and cruised to victory. This year brought the thrilling 48-40 win at the Superdome against a mighty Saints team.
Somewhere after opening day everything falls apart for Koetter. The Bucs were blown out by division foes in each of those years as they reached the midpoint of the season, including today's 14-point thumping by the Panthers.
Despite three bites at the apple, Koetter has not found a way to be a good team through the first half of a season.
He needs an absolute miracle to get a fourth shot from Team Glazer.