Talkin' Chucky, Jameis & Physical Football With Jay Gruden
November 9th, 2018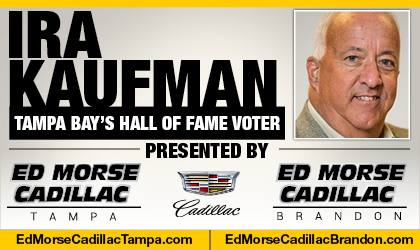 BY IRA KAUFMAN
As Jay Gruden makes his return to Tampa this weekend, his football team couldn't look more different than the Buccaneers.
The contrast between these clubs is stark heading into Sunday's matchup. Most importantly, the Redskins are 5-3 and in first place in their mediocre division. The Bucs are 3-5, dwelling in the basement of the rugged NFC South.
But look beyond the records and you also see a different approach.
Tampa Bay throws the ball all over the field with a very talented group of targets. Washington likes to pound you with Adrian Peterson running behind a stout offensive front.
The Redskins play sound defense, swarm to the football and tackle well. The Bucs do not.
Tampa Bay has been plagued by interceptions while Washington veteran Alex Smith is a master of ball security.
Washington failed to execute its game plan last week against surging Atlanta and the result was a 38-14 home setback that added more bodies to a bloated injury list.
"They got on us early, but we shot ourselves in the foot too many times," Gruden told me on a conference call. "We're a physical football team. That's how we had our 3-game winning streak. We won in the trenches. Offensive line, defensive line, we were able to control the line of scrimmage, run the football and stop the run.

"For us to get back to our winning ways, we have to be a physical group and unfortunately we lost a lot of physical players. We have to adjust and get back to our ways."
Tampa Sons
Perhaps Gruden will have time before the game to see his parents, who still live in Tampa. He served seven seasons as an offensive assistant on the Buc staff of his older brother, Jon, who has been berated in the national media during Oakland's awful start.
"The Grudens always take beatings in the media," he said with a laugh. "We know that, we're used to it. We think it would be a weird day if we didn't get a beating somewhere. Jon will be fine. He came into a situation where they have a few holes. He's trying to do the best he can to put a competitive team out there.

"In the meantime, they've loaded up with some draft picks and I think the future looks bright for them. You build your team through the draft. That's the way he's going to go about it and I think it's the right way."
Jay Gruden was a standout passer at Tampa's Chamberlain High and starred at Louisville and the Tampa Bay Storm of the Arena League. He knows what a good quarterback looks like.
"Fitzpatrick has had a few games where he looks darned near unstoppable," said Gruden. "They've got great weapons and Coach Koetter does a good job of utilizing them. It's difficult to contain them. They do a great job with their scheme. Turnovers have hurt them quite a bit. If they can eliminate those, they got a chance to make a run here late.
"Our job is to get turnovers and get after the quarterback, which we failed to do last week.. Our biggest challenge is to get after Fitzpatrick and make him uncomfortable in the pocket."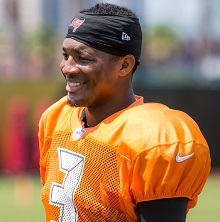 When Gruden looks at Jameis Winston, he sees untapped potential.
"You bring him in as the first pick in the draft and you know you're going to have some growing pains, but you see the arm strength and mobility," he said. "You've got a lot to work with there.

"Now, it's about getting some consistency from the player. The consistency factor just hasn't been there for him, but he has the talent without a doubt. I still think Jameis Winston is a heck of an NFL quarterback. He can make all the throws, he's big and strong and he can run. I just know he's a talented kid."
---
More Derrick Brooks talking Bucs is always a good thing, especially when he's doing it with Ira Kaufman, esteemed JoeBucsFan.com columnist.
It's a new TAMPA TWO, presented by Caldeco Air Conditioning and Heating. Another can't-miss production from The Identity Tampa Bay and Joe.