"It's Been Difficult"
November 15th, 2018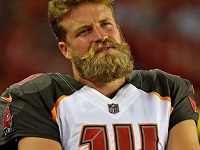 Joe's not hearing good things about the collective mentality of the Buccaneers. (More on that later)
So today, Joe asked wise old starting QB Ryan Fitzpatrick about the team mentality and what he's and feeling from the roster after losing six of the last seven games.
"You know, it's one of those things where, you know, it's been difficult," Fitzpatrick said. "Especially after the games and you have the 24-hour rule and everything. But momentum is such a big part of this game. And sometimes all it takes is one play, or one quarter, one half, one drive at the end of the game. You know, one good outcome going your way, so we're just trying to recapture that momentum. But guys are in practice upbeat, really working hard and trying to stay positive."
Candid but uninspiring chatter from Fitzpatrick. These are tough times and Joe's glad that players are feeling it. (The alternative is much worse.)
The Bucs need a win desperately. Joe can't say what that would accomplish, but they sure need one.