Ira Kaufman's 10 Takeaways From Bucs-49ers
November 25th, 2018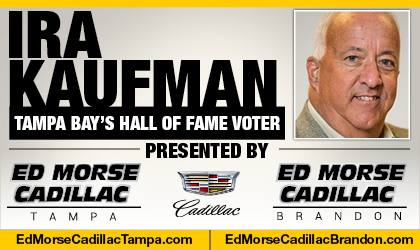 BY IRA KAUFMAN
Instead of beating themselves, the Bucs switched gears Sunday and beat up on the 49ers in their most complete game of the year.
The 27-9 victory represents Tampa Bay's most lopsided triumph since the 2017 season opener, when the Bucs trounced the Bears 29-7 before losing 11 of their next 14 matchups.
The NFL standings suggest the 49ers are not a good football team, but Buc fans don't care — nor should they. For one sunny day, the Bucs played complementary football and dominated the trenches in improving to 3-2 at home.
Jameis Winston played with poise and purpose and Mike Evans set an early tone, informing the 49ers they were in for a long day. The reeling Panthers are up next and as Demar Dotson noted in a jubilant locker room, an effort like this could spark a strong finish.
On a day when many Buc fans were torn between cheering for victory or a better draft pick, here's how the home team took care of business.
* Quite a return for Winston under center, where he belongs for the remaining five games. He took a significant step toward securing his future in Tampa in 2019, making smart decisions as the Bucs posted their first turnover-free game since shocking New Orleans in Week 1. "He played awesome," said Adam Humphries, who caught all six passes directed his way.
* What a weekend for John Lynch. The former Buc icon and current GM of the 49ers was saluted by the Tampa Sports Club at a luncheon on Saturday, only to learn hours later that LB Reuben Foster had been arrested. Foster was jettisoned before the game and then the Bucs went out and took no prisoners.
* One key to the win was a rare good start by Tampa Bay, which had gone four consecutive games without a first-quarter point until Winston found Cameron Brate from 6 yards out. Meanwhile, the 49ers punted on each of their first three possessions, registering only two first downs.
* Vita Vea was determined to make an impact before his rookie season was over, and he played like a first-round pick Sunday with 4 tackles, a sack and 3 tackles for loss. Instead of just occupying blockers, Vea shed them and showed Buc fans why he intrigued Jason Licht heading into the draft.
* Speaking of Licht, no wonder he was smiling after the game. Vea was a force, rookie safety Jordan Whitehead led all players with 11 tackles, Carl Nassib was all over the field and Licht's prized offseason addition, Jason Pierre-Paul, ended Tampa Bay's double-digit sack drought that stretched back to 2005. Even Noah Spence got in a few snaps at right DE when Pierre-Paul hobbled off briefly with a knee injury.
* Evans set an aggressive tone from the start with 4 first-half receptions for 75 yards, including a 42-yard grab that set up Brate's score. On days like these, Evans looks like one of the league's elite targets, a notch below Antonio Brown and Julio Jones.
* Brate and Winston share a chemistry that dates back to 2016. Don't try to over-analyze it. Enjoy it. When Winston reaches the red zone, he looks for No. 84 and Brate has a knack for getting open. His circuitous route on the TD reception was a thing of beauty.
* While the Bucs didn't turn the ball over, they ended a stretch of 7 consecutive games without an interception when Ryan Smith picked off Nick Mullens midway through the fourth quarter. The Buc didn't stop there as Isaiah Johnson joined the party on San Francisco's next possession. It was the first career pick for both players on a day Mullens was saddled with a 62.1 passer rating.
* The Bucs dominated time of possession because the defense got off the field on the money down. San Francisco converted only 1-of-8 on third down, with the only success a 2-yard run on third-and-1. The defensive highlight was a goal-line stand on the opening drive of the third quarter, which was followed by Tampa Bay's 75-yard TD drive for a 20-9 advantage.
* It's a beautiful thing for Buc fans when the post-game conversation doesn't include concerns about the kicking situation. Cairo Santos, perfect on 2 FG tries and 8 extra-point attempts, looks like a keeper.
---
Enter your Bucs question IN THE FORM below for Derrick Brooks and Ira Kaufman, hosts of the new TAMPA TWO show right here twice a week and at The Identity Tampa Bay. (Yes, that Derrick Brooks!) Or send your Bucs question to The Identity on Twitter, @TheIdentityTB.