"Candy-ass Excuses For The Most Porous Buc Defense In Franchise History"
November 19th, 2018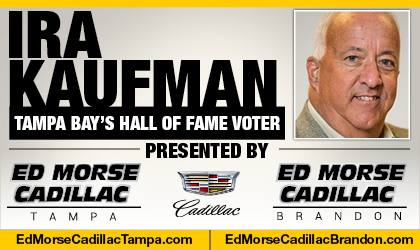 BY IRA KAUFMAN
When this Buc season of despair mercifully concludes, some misguided souls will argue that a slew of injuries on defense derailed a promising start.
Some will point to the absence of Mitch Unrein, Vernon Hargreaves, Chris Conte and Kwon Alexander as key factors in Tampa Bay's demoralizing collapse. And they would be wrong.
Dead wrong.
Don't go there, because those are candy-ass excuses for the most porous Buc defense in franchise history. These players aren't good enough and this scheme isn't good enough to mask the weak links.
Let's expose this injury excuse for what it is: fake news.
Even when Alexander started the first six games, the Bucs were getting shredded and he wasn't playing particularly well.
More than a few Buc fans weren't happy with Conte to begin with, arguing he was a mediocre safety at best. He's been gone since Week 4 and suddenly he's John Lynch?
Unrein was signed as a backup on an overhauled defensive line. He wasn't considered a difference-maker by anyone except his agent.
Hargreaves has one interception in 26 NFL games, hardly the ball magnet Jason Licht envisioned when he selected the former Gator corner in a 2016 haul that is looking more and more like one of the worst drafts in team annals.
Let's flip the coin.
To The Trenches
Tampa Bay's best defensive player, Jason Pierre-Paul, hasn't missed a game. Gerald McCoy has started 8 games and Lavonte David started the first 9. Brent Grimes returned in Week 3 and Justin Evans has played every week, even if you don't notice him very often.
A team that added five defensive linemen in the offseason is somehow last in scoring defense.
On his few snaps, Noah Spence is now relegated to special teams Vita Vea's rookie season has been forgettable. When Beau Allen and Vinny Curry have been healthy enough to play, they've been largely ineffective.
How bad has it been?
When Tampa Bay opponents are forced to punt, Buc players party like its 1999, when this franchise actually had a defense worth cheering for. The Giants couldn't stop the Bucs in the second half Sunday, but let's remember that New York scored on two long TD drives in the final quarter to blunt the comeback bid.
The Bucs are no longer on pace to allow the most points in NFL history, but that dubious achievement is still within their slippery grasp. And if it happens, it won't be because of the guys who weren't there.
It'll be because the guys who are there just aren't good enough to succeed in this sorry scheme.
---
Enter your Bucs question IN THE FORM below for Derrick Brooks and Ira Kaufman, hosts of the new TAMPA TWO show right here twice a week and at The Identity Tampa Bay. (Yes, that Derrick Brooks!) Or send your Bucs question to The Identity on Twitter, @TheIdentityTB.