Ira Kaufman's 10 Takeaways From Bucs-Panthers
November 4th, 2018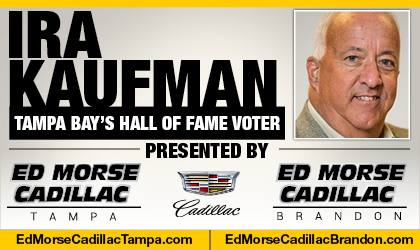 BY IRA KAUFMAN
Dirk Koetter says the Bucs are mired in a depressing pattern this season.
Make that 11 seasons.
Koetter was referring to Tampa Bay's habit of falling far behind in the opening half, only to stage a comeback bid that falls short. We've seen that play out against the Steelers, Falcons, Bengals and Panthers while the Bucs dropped 5-of-6 after a 2-0 start.
The overarching pattern, however, is far more depressing. The playoff drought is almost certain to reach 11 years and another regime change appears likely.
This team has changed defensive coordinators and quarterbacks, yet the losing continues.
Carolina's 42-point outburst shouldn't have surprised anyone because the Bucs came into the game allowing an average of 40 points on the road.
Ryan Fitzpatrick played well enough to keep his starting job for at least another week, but Jameis Winston needs to stay sharp because I smell a return under center before Thanksgiving.
While the Falcons have rebounded nicely from a 1-4 start, the Bucs are reeling. The Panthers had their way Sunday, with only token resistance in the opening half, as another Buc season fades into obscurity.
Here's how Cam Newton's crew went out for a Sunday stroll in Charlotte:
* His name is James Bradberry and he's a second-round draft pick out of Samford in 2016. He's also the rangy, aggressive cornerback who made Mike Evans disappear. Evans was targeted 10 times by Fitzpatrick and latched onto only one football as Bradberry showed Buc fans and Buc coaches how to excel at press coverage. By the time Carolina selected Bradberry with the 62nd overall pick, the Bucs had already chosen Vernon Hargreaves, Noah Spence and Roberto Aguayo. Yikes.
* This game was always going to be about whether Tampa Bay could match Carolina's physicality. Fat chance. Instead, the Bucs couldn't run the ball or stop the run. Take away Peyton Barber's 18-yard dash in the third quarter, with the Bucs down 35-14, and he had 10 carries for 13 yards.
* Mario Addison, who quietly registered 11 sacks in 2017, was in Fitzpatrick's grill all afternoon. He finished with 3 sacks, 5 tackles, including 2 for loss, 3 QB hits and a forced fumble. This game film won't be used by Donovan Smith's agent during contract negotiations.
* The red-zone continues to be a black hole for Mark Duffner's defense. At this point, Buc fans would be shocked if opponents settle for a field goal instead of a TD. Make a stop … somebody.
* We keep saying this team doesn't tackle well — and these guys don't do anything to change our mind. Carolina players reached the second level time and again and when they did, linebackers and defensive backs took awful angles and failed to wrap up.
* The defensive line was manhandled, and that might be putting it kindly. Gerald McCoy was credited with two stops, which was one more than Beau Allen or Vinny Curry. Vita Vea didn't even make the post-game stat sheet and Jason Pierre-Paul was no factor.
* The Bucs forced two turnovers in each of the first two weeks, helping them win both matchups. But since that point, Tampa Bay has two takeaways in six games. Justin Evans has the only interception all season, giving the Bucs a shot at the NFL-record low of 3 picks by the 1982 Houston Oilers. That was a strike-shortened season … 9 games for goodness sake.
* Who showed up Sunday? Adam Humphries was outstanding, catching all 8 of the balls sent his way and scoring twice. O.J. Howard continues to blossom. He's a heck of a matchup problem and he's only going to get better. Wish I could say the same about this forlorn franchise.
* Best news of all? Only 3 road games remaining.
* If the Bucs lose at home to Washington, my money is on Winston returning the following week at the Meadowlands — no matter how well Fitzpatrick plays. At 3-6, the Bucs might as well see if Winston can turn his career around in Tampa or increase his trade value.
Now in his 40th year covering the NFL, Ira Kaufman is the most revered sports personality and writer in the Tampa Bay area. He scored a full-time seat at JoeBucsFan.com world headquarters in July of 2016. Tampa Bay's only Pro Football Hall of Fame voter busts out columns here every Monday, Wednesday and Friday, and his award winning podcasts fire Tuesdays and Thursdays. You can also hear Ira on SiriusXM Mad Dog Radio Wednesdays at 5 p.m. Also a TV star, Ira is part of the FOX-13 Tailgate Sunday NFL show at 10:30 a.m. He's also on BayNews 9, Wednesdays at 10:30 p.m. "The Sage" enjoys beet salads, Riesling, tennis, Bette Midler, Chiefs victories and needling Joe. …WATCH IRA AND DERRICK BROOKS on the new TAMPA TWO show from The Identity Tampa Bay and JoeBucsFan.