"Inevitable?"
November 8th, 2018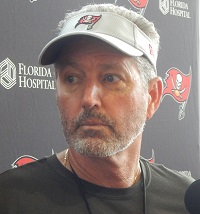 In the mind of heavy metal-headbanging Jason La Canfora of CBS Sports, it's not if but when.
And even though the Bucs have eight games left and the next three games are against beatable opponents, he believes Bucs Bit-O-Honey-snacking coach Dirk Koetter is doomed.
La Canfora lists six coaching candidates he claims are "inevitable" to be leaving their teams in less than two months. Koetter is among them.
The Jameis Winston thing has gone horribly wrong, there is some locker-room strife, having to go back to Ryan Fitzpatrick multiple times in two months is less-than-ideal, and playing in the toughest division in the NFL all adds up to a situation where massive change is coming. As I always point out, any team that comes as close to firing its coach at the end of the previous season is almost guaranteed to do just that the following year.
At this point, that ghastly Bucs defense, on pace to be the worst in NFL history, sure seems to be a noose around Koetter's neck.
What might save Koetter? Of course, winning the next three games gives the Bucs a 6-5 record. Who knows what could happen after that?
If (when?) America's Quarterback, Pro Bowler Jameis Winston, returns to the lineup, him playing well would give Koetter a major boost.
But that defense. Woof!