"I Hope They Stick With Him"
November 12th, 2018
,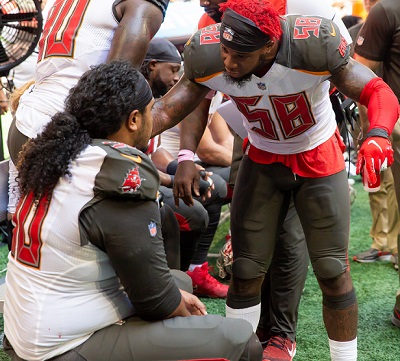 Redskins linebacker Mason Foster is the fifth-leading tackler in the NFL this season and captain of the Washington defense.
The 2011 Bucs third-round pick still loves Tampa (kept his house here) and had a strong message directed at the Tampa Bay front office after yesterday's game.
Before talking to Adrian Peterson about Jameis Winston, Joe chatted solo with Foster, who spent four seasons with the Bucs under three head coaches.
First, Foster has no hard feelings toward the Bucs for letting him go after the 2014 season. He was battling multiple injury issues at the time, Foster said, and he didn't blame Lovie Smith and Jason Licht for moving on.
Foster, 29. has been with Washington ever since, first in a part-time role in 2015, and then he had a breakthrough season in 2016.
Tampa is an offseason home for Foster, who said he trained quite a bit with Ali Marpet early this year. He remains close with Lavonte David and has gotten to know other Bucs that arrived after he left.
Ironically, Foster is a big fan of the guy who replaced him, Kwon Alexander. He said he's not a friend of Kwon but he admires him on film.
"I hope they stick with him," Foster said of the Bucs' looming front office decision on Kwon, who will be a free agent after the season. "The way Kwon plays, and the things I hear about him, that's a special young player. It's a shame what happened to [his knee] at 24 years old but you'll know he'll make it all the way back. He's young. The league is tough but you hope any team, not just the Bucs, would do what they can to keep a committed guy that plays with a lot of heart."
Good to catch up with Foster.
On a fun note, Joe asked Foster about playing for Greg Schiano versus other coaches. Foster gave Joe a response that Joe has heard from other players who didn't have issues with the militant former head coach. "Be disciplined and be physical, that's it. He was easy to play for if you're that kind of player."