Erratic Jameis + Special Jameis = Smiling Head Coach
November 18th, 2018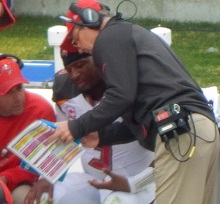 Yes, the Bucs are a weird football team, arguably the greatest soap opera in professional sports.
Dirk Koetter benched Jameis Winston three weeks and dug in on the wacky decision even when the replacement for America's Quarterback was awful.
Today, as Bucs fans saw, Jameis was unshackled in the third quarter against the Giants and was quite shaky early before settling in to put up big numbers.
After the game, Joe asked Koetter for his assessment of how Jameis played and Koetter, the guy who benched Jameis, laughed at the question and didn't think it needed to be asked. (You can't make this stuff up.).
"(Laughs and smiles) Fantastic," Koetter said of Jameis' play. "You don't need to ask me that question. It's pretty obvious he came in and lit it up."
Joe had to laugh, too. Was it really that obvious? If Jameis' early red zone fumble didn't bounce to Mike Evans, then Koetter probably has a very different answer, same for if one of the balls Jameis fired to Giants defensive players was caught.
But that's football, random bounces change games and perceptions all the time, even those of head coaches.
Joe also asked Koetter if he second-guessed his decision to start Ryan Fitzpatrick over Jameis. And almost on cue, he second-guessed his answer.
"No. (pause) I mean, you could second-guess every play out there. I mean, any play that doesn't work, any decision that doesn't work, of course, that's the NFL," Koetter said.
It's just been one of those years for Koetter. The Bucs have lost 70 percent of games this season; Joe estimates that's about the percent of wrong buttons Koetter has pushed compared to right ones.