Don't Repeat History
November 17th, 2018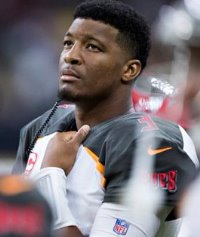 The Bucs are known for two things in their franchise history: losing and giving up on quarterbacks who succeed after they bolt the Tampa Bay area.
And one reason Connor Orr of theMMQB.com suggests the Bucs should keep America's Quarterback, Pro Bowler Jameis Winston, is not to write another chapter in the franchise's ugly chronicles.
Here's why I'm tempted to say yes: Winston was the No. 1 overall pick in the draft. And even though there could be a different coach and different general manager, people hate giving up on No. 1 picks–especially quarterbacks. The fear that he will stumble into a better situation and maximize his potential is real–almost as significant as the fear that they'll bring him back for $20 million and he'll wind up on the bench again. If the Buccaneers make a coaching change, there will also be a curiosity as to how he'd perform with a different offensive coordinator.
Near once every decade, the Bucs give up on a quarterback who leaves and then leads his new team to a conference championship. The Bucs have four quarterbacks who did just that. Three of them won rings.
The four QBs are Doug Williams, Steve Young, Vinny Testaverde and Trent Dilfer. Only Testaverde did not win a ring.
Joe is a big history guy. Huge history guy. And Joe very much believes in the history axiom, "Those who ignore history are doomed to repeat it."
Let's not repeat the Bucs' sordid past. Bring America back in 2019!