Checking Seat Temperature
November 28th, 2018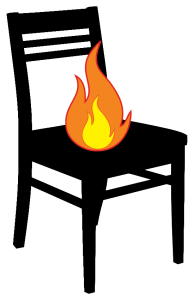 According to the four-letter, if Bucs Bit-O-Honey-snacking, Ozark-watching, yams-eating coach Dirk Koetter cannot make a dramatic turnaround in his team's fortunes in the remaining five games, he's all but doomed.
ESPN decided to check the temperature of every chair sat on by NFL coaches and graded the heat level from five (blazing) to one (cold as ice).
Only three coaches have seats ablaze, so claims the four-letter. And as Jenna Laine notes, Koetter's chair is one of the three.
Coach: Dirk Koetter (18-25 over three seasons)

The Bucs might have snapped a four-game losing streak, but they are still three games under .500 this season and seven games under .500 during Koetter's tenure. Patience is wearing thin, and quarterback Jameis Winston, whom Koetter was brought in to develop, is showing the same ball security issues he had when he came into the league four years ago. On top of that, Koetter had the opportunity to fire defensive coordinator Mike Smith at the end of last season and didn't, a move that unquestionably cost the Bucs games this season.
The other two coaches in the same boat as Koetter? Todd Bowles with the Jets and Mike McCarthy with the Packers.
In Joe's eyes, too much is stacked up against Koetter. He has virtually run out of chess moves.
The only way Joe can see Koetter coming back is if somehow, someway the Bucs make a playoff run. In other words, he would have to win out.
Then, he could tell Team Glazer, "Look, I wasn't picking the kickers, I wasn't picking the running backs and I wasn't the guy who suspended your starting quarterback three games, which took until after Thanksgiving (maybe) for him to get his head screwed on straight."
But as Laine stated, if Koetter does not return, his decision to bring back Mike Smith as defensive coordinator may have Pearl Harbored his days with the Bucs.