Bucs At Giants TV Map
November 17th, 2018
Joe didn't realize the frozen state of Maine is Bucs country?
Basically three areas of the republic will get to watch the Bucs on free television travel to the New Jersey swamplands to face Big Blue and the New York Giants, and maybe Bucs backup journeyman quarterback Ryan Fitzpatrick get his first win in his last five starts. Those three areas are Florida, the northeast and Maine!
Unless Bucs fans live in those regions, they'll need to head out to a bar or have NFL Sunday Ticket to watch the game.
Thom Brennaman and Chris Spielman will be behind the mic for the FOX broadcast. Of course, Joe always recommends taking in the Bucs game and the full slate of NFL action at Abe's Place in Clearwater. The menu rocks.
As always, this NFL TV map for Sunday's FOX broadcasts is courtesy of 506sports.com.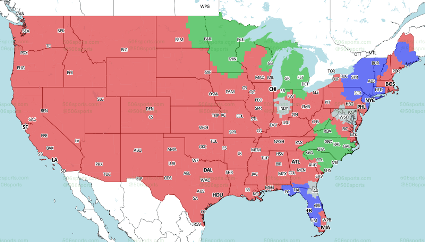 Blue: Tampa Bay @ NY Giants.
Red: Dallas @ Atlanta.
Green: Carolina @ Detroit.
Gray: No game.