All Out Of Excuses
November 14th, 2018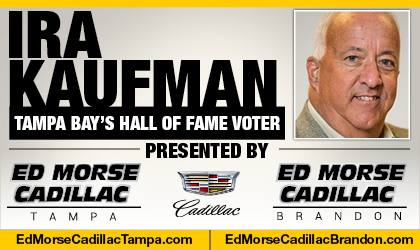 BY IRA KAUFMAN
The red zone continues to be a black hole for these Bucs.
We all know how accommodating Tampa Bay's defense has been when the field constricts, but the flip side is no bargain, either.
When you don't run the ball effectively, defenses have the advantage in tight quarters. And make no mistake, the Bucs don't run the ball effectively.
Sadly, this nonsense has been going on for the past three seasons.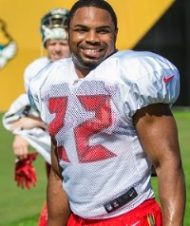 Running backs come and go, sharing the same frustrations.
There's no daylight.
Among all the crazy factoids of this 2018 season, here's one that you may have overlooked: Tampa Bay's offensive line hasn't missed a start through nine games. Not one.
Donovan Smith, Ali Marpet, Ryan Jensen, Caleb Benenoch and Demar Dotson have each gone out there every week to protect their quarterback and open running lanes.
So the next time you lament all the injuries at linebacker and defensive back, remember this starting offensive front hasn't missed a single game. Considering the lack of production, that should make you want to puke.
Nothing Easy
Where are the holes? If Peyton Barber wants to reach the second level, he has to take an elevator. Everything he gets, he gets on his own.
As a team, the Bucs average only 3.8 yards per carry, ahead of only Baltimore and Arizona. Explosive plays in the ground game have been rare, with only 3 runs for 20 yards or more.
One measure of toughness up front is rushing touchdowns. Tampa Bay has 5, tied for fewest in the NFC. Those scores are spread out evenly — one apiece for Barber, rookie Ronald Jones, Ryan Fitzpatrick, Jameis Winston and DeSean Jackson.
That's correct, only 2 rushing scores by the backs.
Is it too much of an ask to see Alex Cappa out there Sunday against the Giants? He's supposed to be nasty … this group needs more nasty.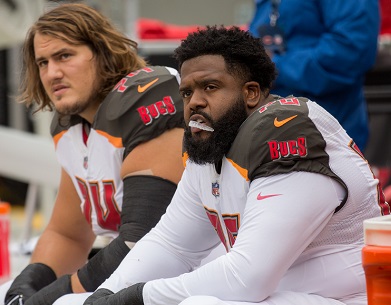 Watch the line play at the Meadowlands and groan at the lack of physicality. There's minimal push and again, this eyesore dates back to 2016.
Efficiency First
Doug Martin is long gone, yet the running woes continue. There's nowhere else to look. By the way, after averaging 2.9 yards per carry in each of his final two years in Tampa, Martin is averaging 4.3 for the Raiders.
Let's talk about value.
When Jensen signed as a free agent, he became the league's highest-paid center. Marpet got his big money last month. Smith is waiting for his payday.
Guess what? Dotson might be the best of the bunch.
There are no excuses left. From a health perspective, these linemen can't be beat. From a performance perspective, they're beat all the time.
One more thing. You would think a passing attack this dynamic would open things up for Tampa Bay's run game.
Not happening.
I understand that some huge halftime deficits have wrecked any plans to remain balanced. This column is not about rushing attempts, it's about rushing efficiency.
Since Dirk Koetter assumed head coaching duties, this team hasn't been able to run. That's an indictment on the coaching staff and the players Jason Licht brought in to get the dirty job done.
DO NOT MISS IRA AND DERRICK BROOKS ON TAMPA TWO, THEIR TWICE-WEEKLY SHOW RIGHT HERE AND AT THE IDENTITY TAMPA BAY. IT'S THE BEST DAMN ALL-BUCS VIDEO AROUND!