49ers At Bucs, TV Map
November 24th, 2018
Apparently, the NFL and FOX don't believe there is a groundswell of interest across the country to watch the 49ers-Bucs game Sunday.
Only three areas of the republic will get to watch the Bucs on free television when the 49ers come to sunny Tampa to face the Bucs. Wonder how many folks will fly across the country from wine-and-cheese land?
Currently, only Florida, northern California and northern Nevada are expected to receive the 49ers-Bucs game via their local FOX affiliate. Unless Bucs fans live in those regions, they'll need to head out to a bar or have NFL Sunday Ticket to watch the game.
Kenny Albert and Ronde Barber will be behind the mic for the FOX broadcast. Of course, Joe always recommends taking in the Bucs game and the full slate of NFL action at Abe's Place in Clearwater. The menu rocks.
As always, this NFL TV map for Sunday's FOX broadcasts is courtesy of 506sports.com.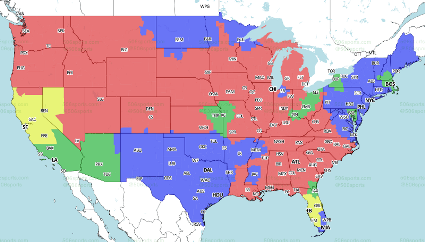 Alaska and Hawaii will receive the Seattle-Carolina game.
Yellow: San Francisco @ Tampa Bay.
Red: Seattle @ Carolina.
Blue: NY Giants @ Philadelphia.
Green: Arizona @ LA Chargers (LATE).