"We Play With Guts!"
October 25th, 2018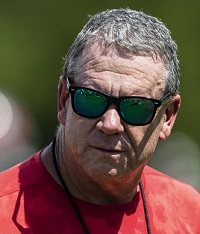 Joe's got must-watch video here for you, 17 seconds of new Bucs defensive coordinator Mark Duffner doing his best I'm-not-Mike-Smith impression.
Smith spent his time on game days away from players up in a coach's booth like a lot of coordinators do.
Duffner decided this Bucs team needed their new DC on the sidelines. Joe doesn't care either way; Joe just wants to see good defense.
Still, Duffner's approach is more hands on and maybe that's what this up-and-down defense needed: a stable leadership presence in their faces.
Defensive tackle Beau Allen was "Mic'd Up" for Sunday's game and the compilation video is below. At the 3:40 mark, you'll see Duffner address his defense after halftime. It's a great peek into Duffner. Rah-rah doesn't lead to victories, but respecting your coaching sure can.