"That Wouldn't Be The Answer"
October 17th, 2018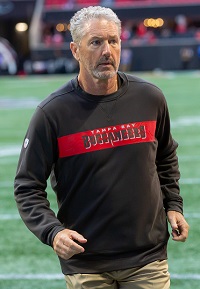 Dirk Koetter has said a couple of times that he wouldn't get too involved with the Buccaneers defense led by Mike Smith because he'd probably get in the way and wouldn't add much value to an experienced staff.
Joe always disagreed, but that's old news.
Now, Koetter has a new coordinator and is down a man on his defensive staff. So has the head coach's attitude changed?
The Sage of Tampa Bay sports, Ira Kaufman, asked Koetter today if he'd now invest more time with his defense.
Koetter chuckled and said, "No. That wouldn't be the answer."
So there you have it. Koetter has faith in his defensive staff, now down their former top dog. Koetter added that he won't be bringing in a consultant/coaching friend to put an extra set of eyes on his defense. Joe will have more on that later.
---
Derrick Brooks takes on the tough questions of the day — your questions — with sage columnist Ira Kaufman.Click below and enjoy this great production from The Identity Tampa Bay and JoeBucsFan.com, presented by Caldeco Air Conditioning & Heating.   
Now in his 40th year covering the NFL, Ira Kaufman is the most revered sports personality and writer in the Tampa Bay area. He scored a full-time seat at JoeBucsFan.com world headquarters in July of 2016. Tampa Bay's only Pro Football Hall of Fame voter busts out columns here every Monday, Wednesday and Friday, and his award winning podcasts fire Tuesdays and Thursdays. You can also hear Ira on SiriusXM Mad Dog Radio Wednesdays at 5 p.m. Also a TV star, Ira is part of the FOX-13 Tailgate Sunday NFL show at 10:30 a.m. He's also on BayNews 9 Wednesdays at 10:30 p.m. "The Sage" enjoys beet salads, Riesling, tennis, Bette Midler, Chiefs victories and needling Joe. …WATCH IRA AND DERRICK BROOKS on the new TAMPA TWO show from The Identity Tampa Bay and JoeBucsFan.