"Tendencies" Talk
October 18th, 2018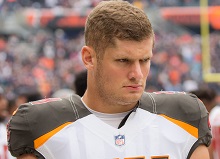 Last week, Joe talked to a Bucs veteran in the locker room and asked what kind of impact Falcons safety Keith Tandy might have via sharing Bucs secrets — since he played in the Tampa Bay defense and knows the offense so well.
The player looked at Joe and snickered at the question before answering it.
Essentially, the player told Joe that pumping a player for knowledge of his former team is a just a hair better than worthless and in rare occasions can be detrimental. And the guy added that it's not like Tandy himself would be on the field very much.
Bucs icon Ronde Barber has talked about this phenomenon in previous years. Ronde said he learned that too much enemy intelligence from an ex-player can lead to overthinking and making mistakes, and screwing up due to relying on bad information or no longer trusting instincts and film study.
This brings Joe to Browns reject Carl Nassib, who was launched by Cleveland after training camp and has become an integral cog (if there is such a thing) in the struggling Dirk Koetter defense.
Yesterday in the locker room, tight end Cameron Brate noted that Bucs offensive linemen had been talking to Nassib this week looking for "tendencies" in his old teammates.
Joe sure hopes they find something worth using. The Bucs defense has struggled so mightily, Nassib could be an early defensive MVP candidate if he can help spark the Bucs to a solid defensive performance.
---
Derrick Brooks takes on the tough questions of the day — your questions — with sage columnist Ira Kaufman. Click below and enjoy this great production from The Identity Tampa Bay and JoeBucsFan.com, presented by Caldeco Air Conditioning & Heating.