Table Set For Jameis
October 4th, 2018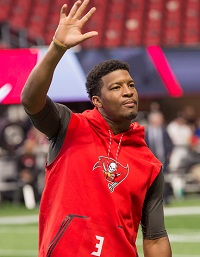 Man, Joe is so excited and happy for Jameis Winston. What a great time to be a Bucs fan!
Healthy franchise quarterback. Flat out loaded and hot at receiver and tight end. Healthy offensive line. 
Could the return of America's Quarterback be laid out any better for success?
Facing losing teams and poor defenses the next two games, life is looking good for Jameis, who got a chance to shake off the rust in Chicago and now will enjoy time to hone his timing with extra practice during the bye.
Sure, Jameis might not have a defense or a running game, but Joe suspects the running game will improve quickly. Regardless, the Bucs have proven they can pass block like champs and Jameis has all the toys needed to light up the scoreboard and hit the ground running like Ryan Fitzpatrick did.
Plus, the Bucs are 2-2, and Jameis shouldn't be feeling the weight of the world on his shoulders. The internal and external pressure is much more on the defense and the coaching staff than it is on him.
Joe is feeling very optimistic about how Jameis can perform through the final 12 games. And, as Joe wrote many months ago, imagine if this Bucs defense can simply play below average football, the Bucs should win more than they lose.
Perhaps Joe's greatest hope is that Todd Monken dials up a script for Jameis to succeed early in games, aka start fast. That's been the knock on Jameis his entire career, but Joe likes Monken putting his fresh set of eyes on that problem.
Joe wishes the defensive playcalling would get the same fresh voice and eyeballs.