Something's Gotta Give
October 8th, 2018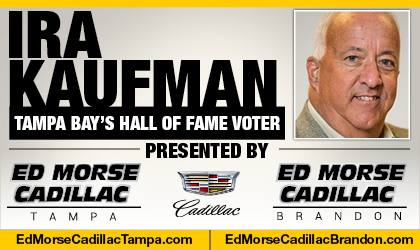 BY IRA KAUFMAN
Move over Mike Smith, you've got company.
When the Bucs return from their bye week and head to Atlanta, Smith won't be the only embattled defensive coordinator in Mercedes-Benz Stadium. Former Gator defensive back Marquand Manuel is also under siege as the Falcons prepare for what could be their final stand.
Sunday's lopsided loss in Pittsburgh is the latest proof that the Falcons can't stop anyone. That bodes well for a Tampa Bay attack now under the control of Jameis Winston the rest of the way.
Let's see if Smith can capitalize on extra time to fix a Buc defense ravaged by injury and lousy execution.
Dirk Koetter says he is sticking with a coordinator who can't understand why opposing quarterbacks are thriving to an absurd degree.
The passer rating against the Bucs through four games is 130.5, the worst in the league. For perspective, the NFL has been operating for almost 100 years and the best single-season passer rating in league history is the 122.5 put up by Aaron Rodgers in 2011.
A "W" From Rampant Optimism
For Buc fans, this bye week hasn't erased the ghastly memory of Chicago receivers running wide open all over Soldier Field. And here come the Falcons, with Matt Ryan instead of Mitch Trubisky, and Julio Jones and Calvin Ridley rather than Chicago's nondescript targets. Yet all is not lost for the Bucs, slight underdogs as they attempt to take down their second division opponent on the road.
Should Tampa Bay extend Atlanta's losing streak to four games, the Bucs would give their supporters reason to believe this will be a season to remember.
Make no mistake — the Falcons are a mess. Manuel's defense is allowing a startling 55 percent conversion rate on third down, keeping Ryan and company stewing on the sidelines.
You think Mike Smith is dealing with injuries? The defensive depth chart of the Falcons is being tested and so far, Atlanta is flunking.
Starting safeties Keanu Neal and Ricardo Allen are already out for the year. Grady Jarrett, the team's best defensive tackle, didn't play at Pittsburgh due to an ankle sprain. The most crushing blow of all came when in Week 1, when elite middle linebacker Deion Jones suffered a foot injury that will keep him sidelined for at least another six weeks.
By then, the Falcons could be toast.
Jones isn't as good as Luke Kuechly, but he's not far behind. He's that good and that important.
"It's a challenge," says Atlanta's most dangerous pass rusher, defensive end Vic Beasley. "We are down. Guys are playing injured, fighting through a lot of pain. I feel like we've been hit pretty hard here lately. We have to keep going. They're not going to cancel a game from week to week. You have to go out there and play with the guys you've got."
The Bucs are yielding 35 points per game, two more than the Falcons, so Sunday's matchup figures to be a shootout. The Bucs have already won one of those in the noisy Superdome, so brace yourself for another aerial extravaganza.
Smith and Manuel are determined to stop the bleeding. At 1-4, the Falcons are in full desperation mode. At 2-2, the Bucs are at the crossroads.
Something's got to give … probably a ton of yards and points.
Now in his 40th year covering the NFL, Ira Kaufman is the most revered sports personality and writer in the Tampa Bay area. He scored a full-time seat at JoeBucsFan.com world headquarters in July of 2016. Tampa Bay's only Pro Football Hall of Fame busts out columns here every Monday, Wednesday and Friday, and his award winning podcasts fire Tuesdays and Thursdays. You can also hear Ira on SiriusXM Mad Dog Radio Wednesdays at 5 p.m. Also a TV star, Ira is part of the FOX-13 Tailgate Sunday NFL show at 10:30 a.m. He's also on BayNews 9 Mondays & Wednesdays at 10:30 p.m. He enjoys beet salads, Riesling, tennis, Bette Midler, Chiefs victories and needling Joe. …WATCH IRA AND DERRICK BROOKS on the new TAMPA TWO show from The Identity Tampa Bay and JoeBucsFan.