No One Left To Blame
October 30th, 2018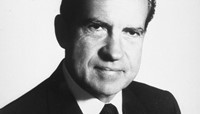 When Joe was growing up, Joe knew what the Vietnam War was and heard about Watergate daily but didn't understand what it meant at all.
The war news was on every night on the CBS Evening News. Stanley was killed there. He was from Joe's tiny hometown where everyone knows everyone. Joe seems to recall the gossip that Stanley was killed when an enemy combatant ran up and tossed a grenade in his tank.
To this day when Joe visits his hometown, one of Stanley's brothers will buy Joe a beer if Joe doesn't whip out his wallet fast enough and buy the brothers a beer first.
Joe's dad, typical of the time, came home from work daily, read the afternoon newspapers while Walter Cronkite spoke of Khe Sanh or "The Plumbers" on the tube in the background, his pipe smoke rising to the ceiling, an adult beverage at his side. Every night it was the Vietnam War and later, Watergate. Every night.
Joe didn't give a hoot about the national news and was bored with the daily skipping record of war and political chicanery. Didn't know what all the nightly standings (body count stats) really meant and surely didn't care about congressional hearings concerning Watergate. Joe just wanted to watch F-Troop reruns on an independent channel, one of five Joe had access to in the pre-cable days.
(Joe never, ever got the chance to watch F-Troop or anything else at that time slot. Watching the CBS Evening News was mandatory in the house. Even a rare late-afternoon/early-evening Cardinals baseball broadcast was off limits until Uncle Walter signed off, even if Bob Gibson was pitching.)
Joe didn't learn until later how those ugly standings were cooked, first by the Lyndon Johnson administration and then by Richard Nixon's henchmen. And Joe didn't learn until years later what Watergate meant until it was all over. By then, Joe had an appetite for history that he still has to this day.
Joe learned that when Watergate first began to unravel for Nixon, one by one Nixon fired people in his administration until his closest advisors and some cabinet members were sent packing. In the end, there was no one left to blame but Nixon — and out the door he went.
When Joe heard yesterday that Bucs coach Dirk Koetter lowered the flag on America's Quarterback, Pro Bowler Jameis Winston, Joe thought of Nixon.
No, Joe's not calling Koetter a scoundrel or anything like that in any way. But it got Joe thinking.
In the past two months, Koetter changed playcallers (Joe wasn't anti-Koetter playcalling but his move has been a home run). He then changed defensive coordinators (another good move, though maybe nine months too late). Yesterday, Koetter changed quarterbacks citing a need for a win. (When have you ever heard of a coach with the NFL's top offense, with virtually no running game, throwing his quarterback overboard?)
So here we are. Koetter has made three radical moves (Joe wholeheartedly supports the first two).
With the possible exception of telling shaky kicker Chandler Catanzaro to go home, Joe isn't sure what else Koetter can do to turn around his team.
Koetter has run out of chess moves.
Yesterday, Koetter backed himself against the wall with a firing squad standing in front of him. Now he has to hope nearly 36-year old journeyman backup Ryan Fitzpatrick can guide the Bucs to the playoffs.
Let that last sentence sink in.
The future of the Bucs has likely been sacrificed by Koetter. It's now or never for the Bucs' top coach.
Like Nixon in the months leading up to his resignation, Koetter has promoted, dismissed or benched just about everyone he can. There are no more bodies to shove aside, no more names left to terminate for a Saturday Night Massacre. All the klieg lights of the TV sports network news departments are fully trained on him now.
Can Fitzpatrick save Koetter?