New Beginning — Or The Beginning Of The End
October 17th, 2018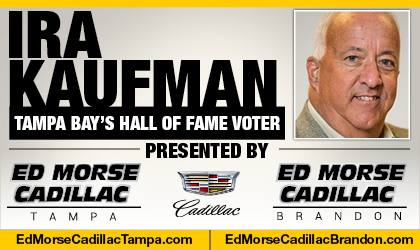 BY IRA KAUFMAN
In theory, every NFL regular-season game counts the same.
You win, you lose or you tie and it all goes into the mix. You have 16 opportunities to put your best self forward and at the end of the year, you are what your record says you are.
So how come this one feels different?
The Browns are coming to town this weekend, and these are not the 0-16 Browns who earned the No. 1 overall draft choice.
This Cleveland team tied Pittsburgh and beat a solid Baltimore club. Two of Cleveland's three losses have been by three points, including a game they were robbed against Oakland. The Browns played poorly last week and were drubbed by a surging Chargers team that has found its way after a Week 1 setback.
As Dirk Koetter approaches his 38th game as Tampa Bay's head coach, this one feels different. Don't just take my word for it. In my weekly segment with Derrick Brooks on The Identity's "Tampa Two," the Buc icon attached special significance to Sunday's home matchup.
Brooks said this one has the feel of "a must-win game," and it's easy to see why.
Road Ahead
In the following two weeks, the Bucs face Cincinnati and Carolina on the road, where they are yielding an average of 41 points per game. This is the moment Koetter's team must stop the bleeding and return some belief to a beaten-down fan base.
One member of the coaching staff has already been thrown overboard on this sinking pirate ship, with more carnage to come in January if things go awry.
Without question, this is the biggest game of the year — and not just because this is the next game. That stunning opening-day win in New Orleans took a lot of pressure off Tampa Bay, but that feel-good story seems like a distant memory.
A three-game tailspin has plunged the Bucs below the .500 mark for the first time in 2018, and if they don't respond, Tampa Bay fans will start turning their attention to the 2019 draft.
Hitting the road mired in a four-game losing streak is a recipe for disaster. This offense deserves better, and so do the loyal supporters who are starting to get that old queasy feeling.
Fresh Voice, Instant Change
Perhaps Mark Duffner can make a difference.
He's been waiting a long time for another opportunity to oversee an NFL defense and he'll bring a different voice to the meeting room. Since 2016, he has made suggestions to Mike Smith, but now he is in charge. With Duffner suggest he would have it no other way.
Amid all the points and turnovers, there haven't been enough takeaways. The pass rush hasn't been good enough and the coverage has been abysmal, but Duffner's position group hasn't distinguished itself, either.
That's where it has to start, facing a rookie quarterback. Baker Mayfield has been picked off five times in his past three starts, but Tampa Bay has registered only one interception this season.
Lavonte David and Kwon Alexander have to lead the way. Duffner has to be more creative with his linebackers, and I think he will.
A 3-3 record would give this franchise a fresh start. Anything less would likely be the beginning of the end.
Derrick Brooks takes on the tough questions of the day — your questions — with sage columnist Ira Kaufman.Click below and enjoy this great production from The Identity Tampa Bay and JoeBucsFan.com, presented by Caldeco Air Conditioning & Heating.   
Now in his 40th year covering the NFL, Ira Kaufman is the most revered sports personality and writer in the Tampa Bay area. He scored a full-time seat at JoeBucsFan.com world headquarters in July of 2016. Tampa Bay's only Pro Football Hall of Fame voter busts out columns here every Monday, Wednesday and Friday, and his award winning podcasts fire Tuesdays and Thursdays. You can also hear Ira on SiriusXM Mad Dog Radio Wednesdays at 5 p.m. Also a TV star, Ira is part of the FOX-13 Tailgate Sunday NFL show at 10:30 a.m. He's also on BayNews 9 Mondays & Wednesdays at 10:30 p.m. "The Sage" enjoys beet salads, Riesling, tennis, Bette Midler, Chiefs victories and needling Joe. …WATCH IRA AND DERRICK BROOKS on the new TAMPA TWO show from The Identity Tampa Bay and JoeBucsFan.