More Defensive Ineptitude
October 12th, 2018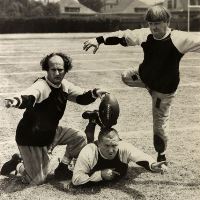 The hits keep on coming.
The Bucs pass rush is pretty sorry outside of new defensive ends Jason Pierre-Paul and Vinny Curry. Bucs fans know this.
But when it comes to blitzing, Bucs defenders are starting to look like their blitz schemes are being devised by football thinktank known as Howard, Fine and Howard.
Now Joe doesn't put much stock in quarterback ratings but they can provide a ballpark idea of what is going on. And Joe is guessing from the Twitter of Patriots beat writer Ben Volin that a quarterback rating of 150 is near-perfect (why can't a perfect rating be simple like 100 percent?).
So if that is the case, per Volin, NFL quarterbacks are begging Bucs defensive coordinator Mike Smith to blitz.
Look at how bad the Bucs have been at blitzing this year. Quarterbacks have a near-perfect passer rating against it pic.twitter.com/asdTJVIqWp

— Ben Volin (@BenVolin) October 12, 2018
Does anyone have one ounce of hope that Smith can somehow slow down Matty Ice on the turf of the Dixie Chicks' cage in Atlanta Sunday? Based on what, because the Bucs white uniforms look better than the road unis?
Every way you slice it, this defense is bad. And to think just how gruesome it would have been had Bucs AC/DC-loving general manager Jason Licht not beefed it up in the offseason?