Mike Evans Wants To Hit The Track
October 11th, 2018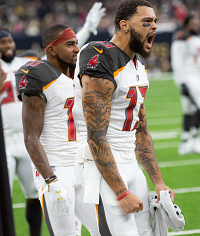 Joe chatted 1-on-1 with Mike Evans yesterday and learned he has a new goal.
One reason Evans is beloved at One Buc Palace and was handed more than $16 million per year is because he's fiercely dedicated to improving his game.
As many fans know, Bucs wide receiver DeSean Jackson is renowned for his offseason workouts with his longtime track coach. Jackson trains like a professional sprinter, in many ways, in order to maintain and enhance his elite speed.
While other guys are running routes and catching ball after ball in April or June, Jackson is refining what has kept him scaring the hell out of offensive coordinators for 11 NFL seasons: his wheels.
This has made a huge impression on Evans. And on Evans' 2019 bucket list is hitting the track to train like Jackson, Evans told Joe. Perhaps it won't be exactly the same way, but Evans said he does want to work with a track coach to explore how much faster he can become.
"I've really never done anything like that before and I think it could help me," Evans said. "There's a reason D-Jack is the guy he is after all these years. It's not just natural ability. That might be a next-level thing for me. I want to see how good I can be."
It's worth noting that Joe didn't bring up anything related to working on speed or on a track. This all came from Evans.
Cool stuff.
Hopefully, Jackson can guide Evans to the right track coach/training regimen.