A Microscope Game For Jason Licht
October 19th, 2018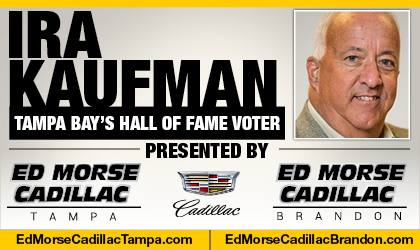 BY IRA KAUFMAN
Huge game for the franchise. Huge game for the general manager.
The Bucs have an opportunity to even their record at 3-3 before a two-game road trip to Cincinnati and Carolina. If they don't take care of business against the Browns, a 2-6 record at the halfway mark would seem likely, accompanied by a six-game losing streak.
The Glazers would be in full regime change mode, making the departure of Mike Smith only the first in a sweeping change at One Buc Place in January.
Talk about a turnover.
But things could change with a home win. They could change for the organization and they could change for Jason Licht.
You can deal with a 3-3 getaway. You keep your postseason hopes alive, you end the bleeding and your confidence gets a boost.
The national media loves to speculate about head coaches on the hot seat, and Dirk Koetter's name is often placed near the top. That's understandable, but Koetter plays the cards he is dealt and Licht needs to win a few hands, starting Sunday.
Vita Vea needs to play extensively, and play well. In retrospect, that calf injury at the start of training camp was more extensive than projected. Through two games, Vea has been credited with one tackle. He's still seeking his first QB hit.
In Gerald McCoy's absence, here's an enhanced chance to show Buc fans Vea is the right guy to eventually replace McCoy at defensive tackle. The Browns are a run-first team, according to Koetter, so Vea needs to capitalize.
That brings us to Licht's next draft pick, Ronald Jones. To suggest that Jones has yet to make an impact isn't exactly a stretch.He was selected for his big-play potential, yet his longest of 11 rushing attempts has been 7 yards. He has one 10-yard catch among his 4 receptions.
The other two second-round picks, cornerbacks M.J. Stewart and Carlton Davis, are components of a pass defense that is being picked apart at a historic rate.
Third-round pick Alex Cappa has yet to dress.
There's a lot of season remaining, but Licht can't afford another draft class with minimal impact. He can't afford another 2016.
The ensuing years haven't been kind to Vernon Hargreaves, Noah Spence, Roberto Aguayo, Ryan Smith, Caleb Benenoch, Devante Bond and Danny Vitale. Spence can't get on the field, Smith and Benenoch are struggling and Hargreaves is hurt — again.
Licht's future rests with his draft classes because free agency hasn't been a strong point. Mike Evans and Ali Marpet have already been awarded second contracts, with Jameis Winston, Kwon Alexander and Donovan Smith waiting their turn.
Licht may not be around to make that call.
This team is 24-45 since Licht assumed control on the personnel side. A 4-7 record the rest of the way would leave Licht with the same record as his predecessor, Mark Dominik. That's hardly the company Mr. Licht would like to keep.
This would be a good time for Vea and Jones to make their marks as rookies. Buc fans will be watching closely. So will Jason Licht.
So will the Glazers.
---
Derrick Brooks takes on the tough questions of the day — your questions — with sage columnist Ira Kaufman.Click below and enjoy this great production from The Identity Tampa Bay and JoeBucsFan.com, presented by Caldeco Air Conditioning & Heating.   
Now in his 40th year covering the NFL, Ira Kaufman is the most revered sports personality and writer in the Tampa Bay area. He scored a full-time seat at JoeBucsFan.com world headquarters in July of 2016. Tampa Bay's only Pro Football Hall of Fame voter busts out columns here every Monday, Wednesday and Friday, and his award winning podcasts fire Tuesdays and Thursdays. You can also hear Ira on SiriusXM Mad Dog Radio Wednesdays at 5 p.m. Also a TV star, Ira is part of the FOX-13 Tailgate Sunday NFL show at 10:30 a.m. He's also on BayNews 9 Mondays & Wednesdays at 10:30 p.m. "The Sage" enjoys beet salads, Riesling, tennis, Bette Midler, Chiefs victories and needling Joe. …WATCH IRA AND DERRICK BROOKS on the new TAMPA TWO show from The Identity Tampa Bay and JoeBucsFan.