Mark Duffner Will Roam The Sidelines
October 17th, 2018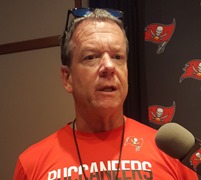 Newly-promoted Bucs defensive coordinator Mark Duffner will bring his high-energy brand of coaching to the sidelines. Nope, he won't be high in a booth like ousted Mike Smith was.
Duffner held a news conference today and said he has done both in his career and prefers the sidelines.
Joe asked what he likes most about the close-up view.
"There are a lot of ways, you know, sometimes the best seat in the house can be upstairs," Duffner said. "Sometimes you feel like you're away from the real action up there because you're somewhat secluded. So I think you've gotta look at just what the scenario is each and every time to decide where can you be most effective. Just in our current situation, I think it's more effective for me on the sideline."
Joe is dialed into the "our current situation" line by Duffner. Joe's hoping he realizes that a new level of sideline accountability is needed with the defense that cites communication as a problem repeatedly.