Leadership!
October 2nd, 2018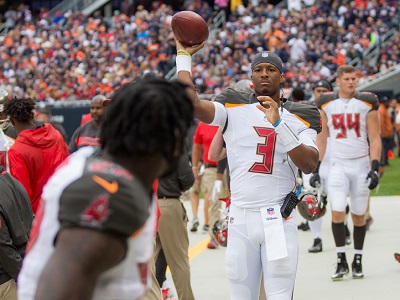 Yes, the value of leadership is often way overblown in the NFL. Most of the time it's superficial and ultimately meaningless.
But there was a cool Bucs leadership moment in Sunday's blowout.
In fact, it's illustrated in the photo above.
Rookie running back Ronald Jones had just experienced rock bottom of his young career in the first half against the Bears. With the Bucs trailing 14-0, Jones dropped a second-down screen pass in the red zone with blockers in front of him. It was just his second NFL regular-season touch.
Jones headed to the sidelines and very quickly a guy wearing a headset and a No. 3 jersey reached out to him and offered to help him get his hands right.
America's Quarterback, Jameis Winston, not yet in the game, didn't just offer a keep-your-head-up line to Jones. Jameis threw him the same kinds of balls the rookie just flubbed — as you see in the photo.
Now that's leadership.
Will it matter? Nobody will every know. Perhaps Joe will ask Jones about it. Regardless, during a nightmare afternoon, it was a cool and telling nugget Joe wants to share.