Koetter On Vea: "Freakish, Freakish Power"
October 12th, 2018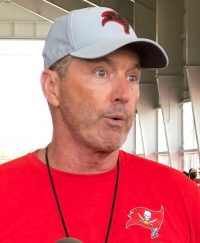 It's a different world now in the Tampa Bay trenches — or it least it should be on Sunday in Atlanta.
Back in May, Bucs head coach Dirk Koetter mentioned bizarre feats of strength performed by rookie manbeast defensive tackle Vita Vea.
"I mean, you can ask those guards that are playing against him. I mean he's got a move with that inside arm; I've seen him left 300-pound men off the ground with one arm," Koetter said then.
Now after just one game's worth of film on Vea, today Koetter was again reference Vea performing Festivus miracles feats of strength, as well as extreme hustle.
"Vita has got unbelievable power, freakish, freakish power," Koetter said of Vea against the Bears. "There was a play in the game where I think they ran a screen or something, to see him run 40 yards down field. But I mean, we all saw what he can do in college. It's going to take a little bit of time, but he'll be fine."
Yes, Joe is very bullish on what kind of difference Vea can make Sunday in what likely will be his first NFL start. Joe also likes that Jason Pierre-Paul has taken responsibility for Vea, and that Vea has such a fierce mentality in the film room.