"I've Been On Both Sides"
October 22nd, 2018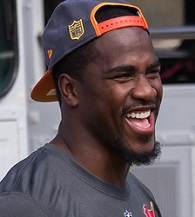 Devastating, heartbreaking losses are nothing new to Lavonte David.
Opening day 2013, anyone?
David has been a goat and he's also enjoyed his share of a few sweet and stunning victories. Heck, the Bucs had one on opening day this year.
Talking about goat-turned-savior kicker Chandler Catanzaro after the game yesterday, David seemed extremely empathetic. "I've been on both sides," he said.
Joe thinks that's an important lesson for Bucs fans moaning about how the Bucs looked in their overtime win yesterday against the Browns. It's far too easy to be negative — even if the Bucs and their coaching staff make it easy.
There was a ton of good in that Bucs performance, including David's sick strip of Browns QB Baker Mayfield on fourth down as halftime was about to end. David was relentless in his chase and punched right for the ball. It was the kind of every-blade-of-grass effort Derrick Brooks talks about and the kind the Bucs desperately need more of.
You can see David in the locker room video below.